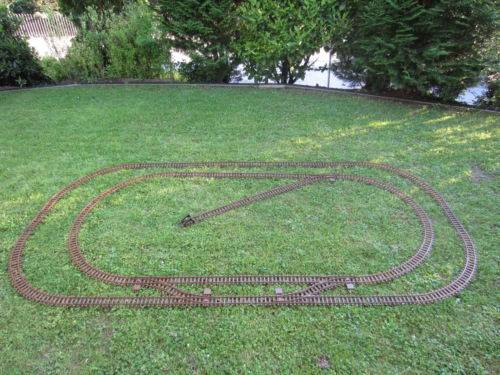 This product is currently not available.
This large set of brown tracks allows two parallel ovals, which are connected via 4 points and...
more
Product information "Train plastic track set, 55 pieces, 2 ovals, 5 points,scale G, for LGB"
This large set of brown tracks allows two parallel ovals, which are connected via 4 points and has a siding. Thus, e.g. Three battery or rechargeable battery packs, e.g. From Dickie, NewRay, Playmobil, Trainline 45 or LGB.

It consists of 5 hand softs, 25 straight and 24 curved tracks and a Piko bouncer. All tracks are made of brown G plastic. They are suitable for battery-operated locomotives and batteries or battery powered radio locomotives from Playmobil®, ZENNER, LGB, Trainline 45, Train and others. The tracks are 100% compatible with plastic tracks from Dickie and with small changes also from NewRay.

Especially in the outdoor area, plastic tracks have great advantages:

- Theft is low
- Track system costs about 1/4 of brass tracks and points.
- Such systems can be afforded by almost everyone.
- Adapter tracks and short tracks can easily be built by themselves
- Switches can be retrofitted with electric turnout drives
- for indoor and outdoor.
- no need to grind the tracks at battery locomotives
- With battery locomotives and plastic tracks, you do not need expensive, complicated and outdoor-prone digital technology.

Problems with the track color brown or black.
The goods are from China. The deliveries are not regular and rare. Probably the brown curved tracks soon leave.
It can therefore happen that we have to deliver the matching black Dickie Cargo plastic tracks. In this case you would have to sand a little from the round click connectors at the transition points at the brown tracks.


Compatibility of the tracks with the vehicles:
Trailers from the manufacturers LGB, Märklin track 1 as well as locomotives and trailers of the manufacturers NewRay, Dickie / NewRay, Echo Toys, Bo Toys, Boy Toys, Newqida, Sientific Toys, Playgo, Dickie / Hip Chong and Dickie Cargo train Set work on this track system. So that the Dickie Cargo locomotives and trailers can also be used on the other track systems, e.g. LGB function, the axis distance must be changed. What we surrender has this change. New 4-axle chassis from LGB make full-quality LGB members from these Dickie and NewRay cars.

Electrical plastic softening:
The switch points can be exchanged for electric turnout drives from Piko® or LGB®. In combination with Funkloks, you can set up a remote-controlled train operation.

Dickie and Co.
Attention: Two track systems have been offered by Dickie® that do not fit perfectly.
(A) originating in NewRay
B) Dickie® own production, eg in the cargo set and express traction unit.
Zenner distributes both systems. They are hardly distinguishable from one another, but can easily be adapted by a little grinding of the re-hook. Please call us, we will tell you how it works or order with us adapter tracks.

Options for LGB and Co.

LENGTH, TRAINING, PLAYGUFF, Hip Chong, Dickie Cargo train Set and others can produce ZENNER on request for you (delivery time).
Such goods are offered for you at Ebay for direct purchase. Please write to us before we can hire them.

Mixture of brass tracks with plastic tracks:
You can find other plastic switches and rails of the named manufacturers in the ZENNER-SHOP at Ebay. It is also possible to connect electric switches from LGB, Piko®, Bachmann® or Aristocraft® via the adapter track / transition rail No. ZR19000 or via new plastic short rails. So you can also drive a battery powered locomotive on LGB tracked in various directions.
These short adapter rails are available on request, so you can connect an external LGB circuit with two brass switches together with two plastic switches, which are located opposite each other. Every locomotive operated by Battrien can drive between brass and plastic tracks, whereas the LGB locomotives need the current from the rail and are limited to the brass tracks.
These transitional tracks made of plastic no. ZR19003 and ZR19004 are only available in very small quantities.
For two brass points and opposite plastic switches, you need 2 times ZR19003 and once ZR19004. These tracks can only be purchased through a purchase.
Related links to "Train plastic track set, 55 pieces, 2 ovals, 5 points,scale G, for LGB"
Read, write and discuss reviews...
more
Customer evaluation for "Train plastic track set, 55 pieces, 2 ovals, 5 points,scale G, for LGB"
Write an evaluation
Evaluations will be activated after verification.