About us
Garden Railways in ZENNER-SHOP for all ages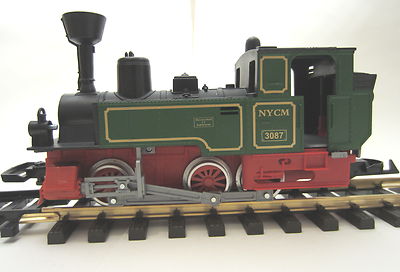 It began three years ago on Ebay with this locomotive to which NewRay / Dickie steam engine, rebuilt from us mít LGB couplings.
First it was simple models, but now we also have very high-quality products for the garden railway in the program


The ZENNER Beteiligungen GmbH in Saarbrücken has this store set the www.zennershop.de after we recorded in a short time on Ebay great success. Today, this store is one of the leading online shop with more than 500 items. Content is also uploaded partly as Zenner shop on Ebay and Amazon. We complement with him Ebay and Amazon- program has. The ZENNER SHOP for GARTENBNHNEN in its sales program brands LGB, PIKO, Train Line45, Playmobil, Liliput Bachmann, NewRay, Dickie, Train, Hobbex, Jordan, ESU, Massoth, Boermann and others. ZENNER has placed among other things one of the priorities on radio loco and WLAN radio locos. It can be both battery-operated locomotives, as well as those who receive your electricity from the track, are managed together. With Kids Train we have a category introduced responsive even small children and smaller purse. Cheaper manufacturers like Dickie, NewRay, Bachmann then work together with LGB. The program is supplemented with own wagon models. Another focus is the adaptation of the various couplings and track systems to each other.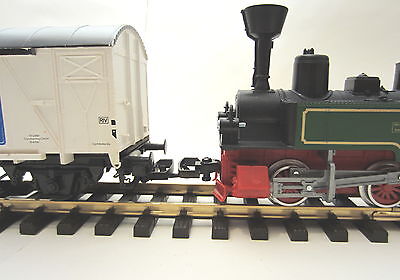 This steam locomotive with LGB couplings pulls back a Marklin trailers track 1, the LGB scored couplings. Conversely, brands are rebuilt on Märklin track 1 now also LGB followers and followers of other G-gauge.
BUSINESS IDEA: goal and business idea is to run for young and old worlds of the track G together, so different brands combines can run on a system. ZENNER offers www.zennershop.de or in Zenner shop on Ebay and Amazon selected trailers, locomotives and rails of different manufacturers and aftermarket replacement parts and models from their own production.

Now everything the track II 64mm, the standard gauge in a scale of 1: 22.5 to 1:28

our company is already a member of IG Spur II 64mm and become since new producers of articles in this gauge.
We have begun working more closely with Train Line45, Heyn, GRS, Hilbert and Boermann in track II area. Our goal is, the track II 64mm to make known. Mostly we adhere strictly to the track II degree. But we also build locomotives and cars from LGB, Train Line45 and Piko on track II (64mm) and fit them on request to the prescribed end beam for two buffers IG track II. We do this because otherwise the business costs in the correct scale1: 22.5 would not affordable.

A little history of the company Zenner Beteiligungen GmbH

To 1903, the grandfather of the current owner Dr. Peter Zenner founded the water meter factory Zenner, the possession of the Lehmann family with its group companies Minol passed after more than 100 years (www.zenner.com). The holding company that Zenner Beteiligungen GmbH remained in family hands (www.zennershop.de). The company started 2012 with the new line of business garden paths and built in a very short time a small production for gauge railways G on. Distribution is usually via the Internet. Based on many years of experience in the field of international sales Zenner of meters (water and heat meters), also the export of garden paths developed in more than 25 countries in a short time. Meanwhile, the company sold alongside the garden paths of the track G (gondola cars, high-sided gondola, tankers, flat wagon with stakes, boxcars, passenger cars and locomotives) and car models, and building material for model building. With Ebay a French Zenner shop for Garden Railways has also yet opened by there are also some French models.

History of Zenner shops for garden paths in catchwords:

1976: purchase of a Marklin Gauge 1 steam locomotive BR 80 and two wagons with LGB tracks for the garden, started by AC transformer of Marklin1977 Marklin locomotive and cars are provided with LGB couplings.
1977-2012: slower expansion of private investment, now only with LGB material. This will be used from 2012 as a test track for production.2001 Foundation of Zenner Beteiligungen GmbH as a holding company for other business activities (water meters, heat meters, leasing, investments)
1.11.2012: establishing the department garden paths and Zenner shops for garden paths of the track G and track 1 on Ebay. The shop is a success story after just one year.
1.1.2013: establishing a small production plant for garden paths of the track G, the first plastic tools, 3D printers, Repair Service
9.1.2013: French Ebay Stores Foundation
11.1.2013: of the German stores foundation www.zennershop.de in which part a slightly different program than Ebay is offered. Here in particular, special editions are offered to customer with longer delivery times. Meanwhile Zenner has over 1000 cars and 100 locomotives in stock
1.1.2014: Zenner now represents the G-Track Brands Liliput Bachmann, NewRay, PIKO, Jordan, Zenner, Train, Train Line45, Hobbex and other
10.1.2014: First Zenner catalog on wagon. This was followed by the catalogs cars and locomotives. Specializing in wireless locomotives with smartphone.
2.1.2015: Zenner shop on Ebay assumes the entire Train Line 45 program. Zenner has 4 employees. Several subcontractors produce exclusively for Zenner.
3.1.2015: Zenner has become one of the leading track G traders with different brands on the Internet.
7.1.2015: Ebay over 400 G scale items are set, derived in part from the Zenner production. Now Zenner is represented in over 13 markets Ebay.
8.1.2015: Zenner shop at Amazon in three markets of Germany, Britain and France. Train Line 45 now available at Amazon
10.1.2015: Zenner shop accepts the LGB representation track G in Saarbrücken. Meanwhile, there are more than 500 items. Sales in more than 25 countries (including USA, Canada, Australia and almost all European countries)
11.1.2015: Representation of manufacturer Boerman of Holland, manufacturer of finished Train Line45 locomotives and bogies. The first catalog is ready. Beginning of the production and distribution of trace II (64mm) articles such as locomotives, cars and tracks. Meanwhile Zenner offers a complete system of products in order to build a model railroad can.
2.1.2016: Zenner also represents Massoth and ESU Pullman.
3.1.2016: New conclusion with PIKO